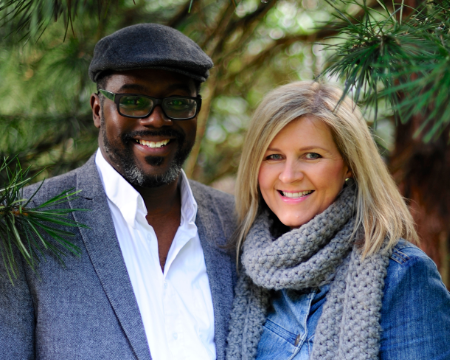 Yes, they are the Angels.
Junior and Allison live in Manchester. They met on-line, and following Junior's proposal on the second date (yes really!) they married in 2014. They have four young adult/teenage children – two each from their previous marriages.
Junior works full time in Finance and enjoys DIY, photography and wearing hats. He has an enviable collection of vinyl and loves to play "old skool" classics on full-blast.
Allison is a property entrepreneur and leads a life group for women in business. She promotes personal development wherever she goes and loves all things vintage/antique and Mediterranean holidays. She's in the process of writing her first book.
They are passionate about the pain they experienced in marriage breakdown being used for the greater good.
5 things we asked the Angels:
What do you like to eat for breakfast?
A – Strawberries, raspberries & blueberries, full fat Greek yoghurt & a sprinkle of chopped almonds.
J – Weetabix with ice cold milk.
2. Which is the best book you've ever read? 
A – Men are from Mars, Women are from Venus.
J – David Goggins 'You can't hurt me', it's a book about a US naval seal who's an ultra runner.
3. What makes you laugh out loud?
A – Peter Kay makes me laugh.
J – The kids don't understand this but it's Laurel and Hardy.
4. What's the other person's most annoying habit?  
A – Junior's most annoying habit is putting his hot cup down on a table when there's a coaster right next to him.
J – Allison's most annoying habit is working from home in her dressing gown.
5. What do you love most about the other?
A – I love Junior's warmth
J – Her most attractive feature is her eyes but what I really love is her passion for Jesus.
Junior and Allison are hosting the new FamilyLife COUPLES TALK on zoom, 8-9pm Thursday 30 April.