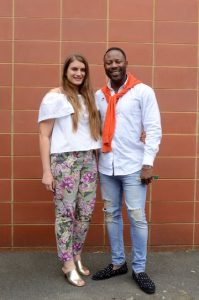 Well, funny you should ask, Vanessa and Haggai recently joined the Familylife team on the Facilitators training day. They are full of life and passion for marriage and they have more than a few entertaining stories to share with couples during A Day Together(!) I'll just say one word – Baboons. Anyway I caught up with them recently to find out a bit more about who they are:
Q. So, Haggai and Vanessa, where are you based in the UK?
We live in Hull in Yorkshire, the City of Culture 2017.
Q. And how long have you been together?
We have been married three years in August, we have been together seven years and have being friends for fourteen.
Q. How did you meet?
We met in our home town through a mutual friend on a night out and hit it off. We spent a lot of time together as friends, going on romantic walks, out for meals and spent hours talking. We then realised that we were meant to be more than just friends.
Q. Why did you want to get involved with Family life?
We have always thought that marriage is fun and tried to show others that too. We think marriage is a relationship with your best friend and soul mate.
A lot of people we know through our social scene started to come to us for advice, whether they were single, engaged or married. We really appreciated the opportunity to provide input and offered open, honest advice to people based on biblical principles.
We found that we had a voice to talk with others about relationships and we were looking for an opportunity to connect us to a wider audience.
Q. What are you hoping for from being involved?
We are passionate about marriage and showing people that relationships are a gift. We live in a throw away generation and relationships are so often seen as quick and simple. We are both from divorced families and would love to show people that though no marriage is perfect, there is hope. By committing time, heathy communication and trust, the bond is held together with a glue called love.
Jo Arkell
July 2017